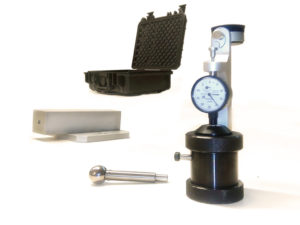 RTCP Meter was specially designed and realized in 2017 by Reset Industria for the measurement and the qualification of continuous and indexed birotative heads.
The device is equipped with two comparators with a graduated scale and is able to verify geometric errors, positioning accuracy and other RTCP parameters of heads and tables, allowing installers to make any corrections.
Key benefits of RTCP Meter

CONSIDERABLE REDUCTION OF INSTALLATION TIME

QUICK RELEASE OF QUOTAS WHEN CALCULATING THE TOOL CENTER

DETECTION OF THE TABLE CENTER, EVEN WHEN THIS IS NOT REACHED FROM THE SPINDLE
in addition…
We designed RTCP Meter with the aim of making it easier both during installation and during use, even by non-specialized technicians.
In this way, it is possible to check the geometry of the head whenever the need arises, thus avoiding costly service interventions and lengthy time for machine downtime.
Equipment and special features
RTCP Meter is made of burnished steel body and stem and anodized aluminum supporting structure, and is provided with:
spherical specimen tool in stainless steel (ball certified G40), with adjustable coaxiality

flat ferrules, to improve contact

precision comparator by movement on rubies with a enlarged graduated scale for better reading (MITUTOYO components)

positioning systems by squares or magnetic bases

ABS case for tools and accessories
For further info, please refer to our CONTACTS page.