Reset Industria is…
Re.Se.T. stands for REtrofit SErvice Torino
The word Industry refers to our 'jurisdiction' 
and to the almost genetic vocation of the City of Automobiles (ie. Turin)

---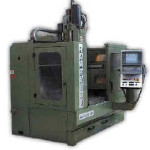 This is a limited liability company Reset Industria, founded in 2000 from the ashes of another company operating in the same field: the SE.FA. by Fiorenzo Audrito.
Fiorenzo Audrito, ex Rambaudi who had self-employed successfully already for few years in the industrial world of small and medium-sized enterprises, uses his extensive knowledge and takes the opportunity to put  together skilled elements (like designers, programmers, electricians and mechanics) to start the much more ambitious plan to become a leading supplier for mechanical workshops around the northern and central Italy..
So far, the team has performed the task admirably, earning the trust of entrepreneurs and industrialists who have always found the right technical solutions thanks to their collaboration with Reset.
The most important activities involved the complete retrofit (both mechanical and electronic) of obsolete machinery which eventually regained standard levels of performance, appropriate to the market. Other activities, 'minor tasks' so to say, were limited to the replacement / upgrading of Numerical Controls, drives and optical lines.
All the above, without neglecting the so-called ordinary maintenance or the provision of spare parts, even for very old machines.
---
1997 is the turning point: the design of a modular system (called → System-G), able to automate manual machines in a short lapse of time, confirms Reset potentialities!
The developments exceeded expectations in a few years



…during which Reset technicians were spotted not only in Italy, but also in Spain, France, Germany, Romania, the Americas and even the Arab countries.